Welcome To JK BID AUCTIONS
WE HAVE BEEN CONDUCTING ALL TYPES OF AUCTIONS SINCE 1993. JK BID AUCTIONS IS A FULL SERVICE AUCTION COMPANY. WE USE A COMPUTERIZED CLERKING SYSTEM AND CAN PROVIDE ASSISTANCE WITH SET UP INCLUDING TABLES/TENTS/ AND ALL EQUIPMENT NECESSARY FOR A SUCSESSFULL AUCTION. IF YOU ARE INTERESTED IN HAVING AN AUCTION OR HAVE QUESTIONS ON THE BEST OPTION FOR YOUR SITUATION, PLEASE CONTACT JEFF GOUKER FOR A FREE CONSULTATION.
616-291-3870
Please Click link on side bar for photos of Metternick International Museum Auction
CHECK OUT OUR UPCOMING AUCTIONS:
May 18, 2019:
Wings of Hope Hospice- St. Mary's Visitation Community Center
July 17, 2019:
Van Buren County Small Animal 4-H Auction- Van Buren County Fairgrounds
8July 19, 2019:
Van Buren County Large Animal 4-H Auction- Vav Buren County Fairgrounds
August 1 and 3, 2019
Cass County Fair Large and Small Animal Auction- Cassopolis, MI
August 8, 2019
Kalamazoo County 4-H Auction- Kalamazoo County Fairgrounds
August 17, 2019
Metternick International Havester Collector Museum, Clarksville, MI
September 11, 2019:
Allegan County 4-H Auction- Allegan County Fairgrounds
WELCOME TO JKG FARMS
WE HAVE BEEN BREEDING FOUNDATION PERFORMANCE QUARTER HORSES AND STANDING FOUNDATION PERFORMANCE STALLIONS FOR THE PAST 20 YEARS. WE RECENTLY LOST OUR STALLION AND CURRENTLY DO NOT HAVE ONE STANDING. WE DO STILL HAVE OFFSPRING AVAIABLE FROM OUR STALLIONS AND HOPE TO ADD ANOTHER STALLION TO THE FARM IN THE FUTURE.
WE ALSO BREED BOER GOATS ---BEEF CATTLE----AND BORDERDOODLE PUPS. PLEASE CONTACT US FOR INFORMATION ON ANY OF THESE ANIMALS AS WELL!
CLICK THE LINK BELOW TO BE REDIRECTED TO THE FLYER FOR THIS AUCTION

COMPLETE MUSEUM DISPERSAL AUCTION
Please click on the link on side bar for photos of Metternick Auction

Click the link to the right to go to proxibid and register to view and bid on items on the upcoming
"Metternick International Harvester Musuem Auction"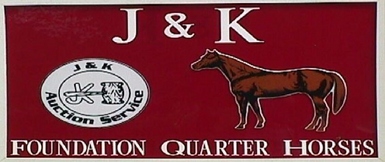 CLICK HERE TO VIEW AND BID ON PROXIBID