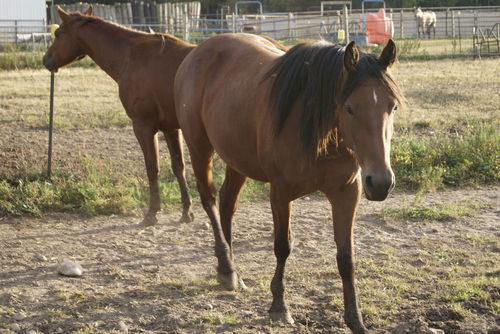 2008 Bay Filly (Docs Idlewild X Docs Dee Jay Bar)
This filly will make someone a wonderful prospect for most any sport. She has filled out into a nice size mare with good conformation. If she is like any of her siblings, she will be one of the easiest to train (her dam is one of our favorite broodmares- she has always thrown great dispostions). She is about 15.2 hands. If you are looking for an all around filly that will give you 110%, come take a look at her. She has had a little ground work, and we just have not found the time to devote to her.
Price: $1,400.00
SOLD!
2008 Sorrel Gelding (Brocks Peppy Robin X Docs Dee Jay Bar)
This gelding has the build and mind to be a super working horse. He is short backed and has a good hip on him. He has a good dispostition and likes attention. He has had some ground work and is being worked with the saddle on now. He is showing a lot of progress.
Price: $1,400.00
Sold- Thank You and Congratulations Emily Borton!